How to Practice: Random vs Block Practice
How to Practice: Random and Block Practice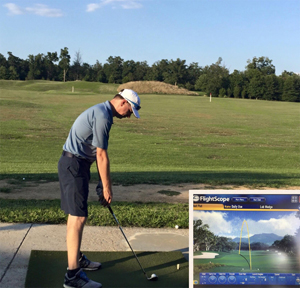 It is important to learn the difference between "block" and "random" practice. Both methods are valuable and should be used, but many players tend to focus only on block practice and neglect random practice.
Block practice is high repetition, which tends to create a belief system when a new skill can be repeated on the driving range or practice green. An example of this type of practice would be hitting the same five-foot putt 50 times and making 45 of them. This will leave the player with a high level of confidence, but this type practice has a low transferability to the golf course. There is never a situation in an actual round of golf that a can player can stand in one spot and hit shot after shot, making the proper adjustments each time and developing the feel of the shot.
On the other hand, random practice makes creating that belief system more difficult because the high repetition or success rate isn't there, yet it transfers to the course better because it is a more accurate simulation of the real thing. An example of this type of practice would be hitting 50 putts from scattered locations around green, meaning the number of conversions is likely lower. Because the player will make less putts in this format, that extreme confidence may not be gained like in block practice, but the practice is more efficient as it better simulates the real thing. Random practice could be done on the driving range by not hitting the same shot twice in a row. You can change clubs or change targets with the same club each shot.
Block practice is great following a lesson when you are working on a new skill, whether that is in the full swing, short game, or putting. Your body needs high repetitions to learn and ingrain the new information. Random practice is great when you are maintaining, measuring, or testing a skill you have already developed.
Thus both practice techniques can and should be used, meaning you would develop the confidence of success achieved in block and the transferability to the course achieved in random.
For more information, contact Coach Josh Apple at japple@raspberrygolfacademy.com.