RGA student Jimmy Flippen named the Middle Atlantic PGA Player of the Year!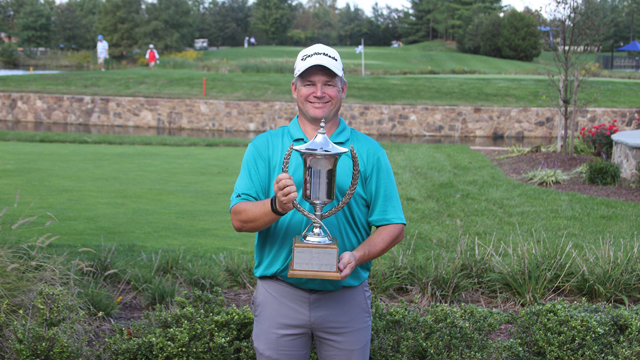 It has been a year that Jimmy Flippen is likely never to forget. The head golf professional at Ringgold Golf Club in Danville, Va. was just named the MAPGA Player of the Year following his most recent win in the Player's Cup held Oct. 3-4. Just prior to that triumph, Flippen stopped by Raspberry Falls to work with Patrick McGuire; they have been working together since 2009, shortly after they first met through section competitions. He came to Leesburg to train this year both in late May and in late September.
"Pat approaches me like he approaches all students," Flippen said, "it's a process, it's a journey, not a journey that ends, it has some pretty amazing stops along the way. The journey has had some bumps in the road, but I'm very thankful for his patience and his persistence."
Flippen's torrid 2016 campaign included three wins, all of which came in his last four events. The first win of the summer came at the MAPGA Section Championship at the Kinsgmill River Course in Williamsburg, Va. on Aug. 15-17, where he prevailed in a playoff with scores of 67-72-69 (-6). His next victory also came in a playoff in the Head Professional Championship on Sept. 26 at the Elkridge Club in Baltimore, Md., with a score of 67 (-4). His very next event was the Player's Cup at Dominion Valley in Haymarket, Va., but this time no playoff was needed as he lit up the scoreboard firing 66-66 (-12) to win by two shots.
Other notable successes this summer included reaching the semi-finals of the MAPGA Match Play Championship, finishing 8th at the State Open of Virginia (5th among professionals), finishing 7th in the Blaisdell Pro-Am in Bradford, Pa., and finishing T12 in the Fall Pro-Net.
Flippen credits his visit to Raspberry Falls to see McGuire in late May with really getting the ball rolling on his standout year.
"He made the comment, 'you are swinging aggressively at the ball, I notice this change you've made, you don't look like you are swinging defensive, I like it.' And from then on, it just kept building going into the Section Match Play," Flippen said.
His incredible run through the section may not even be his greatest achievement of 2016 however, as he shot an astounding round of 58 (-14) at Southern Hills Golf Course in Danville in between his win in the Section Championship and the Fall Pro-Net. That unforgettable round included three eagles, nine birdies and a bogey. Yes, he shot 14-under with a bogey.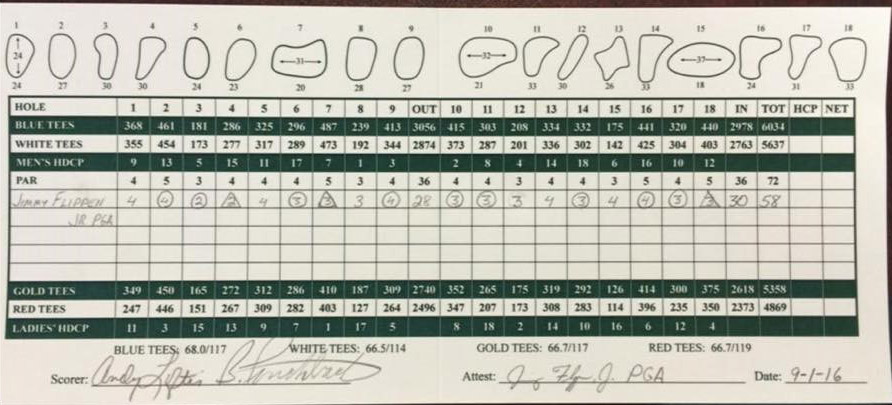 Flippen's latest trip to the RGA headquarters in Leesburg to see McGuire included lessons on biomechanics in the full swing, focused on sequencing and timing of the downswing, and "Read Speed" in putting, allowing more room for error and less perfection on the greens.
"Pat is an absolute wealth of knowledge, he definitely takes the time to understand each and every student so he can work with their tendencies and turn those tendencies, which in many cases may be weaknesses, help turn them into strengths," Flippen said.
Through McGuire's teaching this year, Flippen says he is having more fun on the golf course, is more relaxed and less perfection-based, all while being more focused and knowing what to focus on while playing.
"Every year I have felt this way, but this year especially," Flippen said, "I just consider myself very fortunate and very thankful to have him as my coach."
His next major competition will be the Taylor Made TP Classic in Charlotte, N.C. on Oct. 24, which would qualify him for the Taylor Made National Championship in March of 2017, held at Pebble Beach and Spyglass Hill. He competed in the event this past March after qualifying at Baltimore CC East Course last October.
---