RGA Student Paul Peterson wins on the Asian Tour
RGA Student Paul Peterson Wins on the Asian Tour
By Josh Apple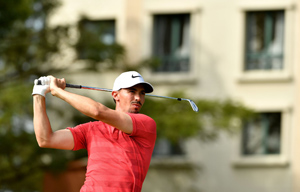 Paul Peterson established himself as a significant player on the international stage when he claimed his first European Tour title at the 2016 Czech Masters, outdueling European Ryder Cup star Thomas Pieters by one stroke. That win solidified Peterson's career and proved that the Raspberry Golf Academy had a recipe for success.
Although Peterson did not have a victory in 2017, the 29-year-old had been steadily showing progress and signs that he would return to the winner's circle again soon. That win finally came on Jan. 28 when he took down a strong field in the Asian Tour's Myanmar Open, his first victory on the Asian Tour. He fired scores of 68-66-71-66 (-13) to prevail by two strokes, including a birdie on the 72nd hole to confirm the win.
The momentum from that win carried over to the next week, as he finished T11 on the European Tour's Maybank Championship the first week of February, with scores of 69-70-65-70 (-14). After those two strong finishes, Peterson reached a new career high of No. 120 in the World Golf Rankings, ahead of many well-known PGA Tour stars.
Peterson originally reached the Asian Tour in 2014 through the Raspberry Golf Academy's Path to the Tour program. He trained with Patrick McGuire and the other RGA instructors at the Legacy Golf Resort in Phoenix, Az., preparing for Asian Tour Q-School. He achieved full status on the tour in his first attempt. Through his work with RGA, Peterson was able to transition from a mini tour player to a very successful Asian Tour player immediately. For Peterson to at last get his first win on the Asian Tour in 2018 was a special experience.
"This victory is very special as the Asian Tour is where I started and to be able to get a win here really means a lot," Peterson said. "I had to make that transition from Asia to Europe and I was trying to play in as many events as I could. So it just feels right that I'm finally able to have a win under my belt out here in Myanmar."
Despite playing a busy schedule in Europe and Asia and being from the West coast of the United States, Peterson continues to travel to Leesburg, Va. to work with McGuire at Raspberry Falls. Peterson also works closely with RGA mental coach, Oscar Coetze, and RGA strength coach, Walt Cline. RGA instructor Lisa Deel also provides assistance through her knowledge on K-VEST.
The Raspberry Golf Academy model of a team effort proved it can take an average developmental tour player and turn him into one of the best players in the world. All four of the golfers from the original Path to the Tour program have seen varying degrees of success, but Peterson was the most devoted to the program and continues to be fully bought in to the system, leading to the most accomplishments.