Major Success for RGA Student Hayden Miller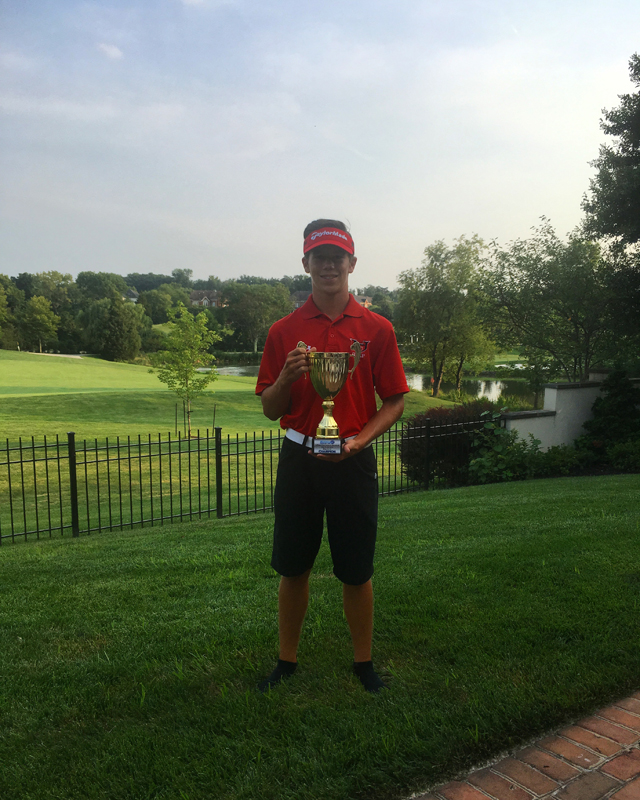 Hayden Miller, rising junior at Heritage High School, has been on a meteoric rise since joining the Raspberry Golf Academy team in 2016. He works primarily with RGA Director Patrick McGuire, alongside staff instructor Josh Apple. Miller never competed in tournaments outside of high school competitions and had never shot below a 70 prior to beginning his lessons, yet he has quickly become one of the best juniors in the area and has shot as low as a 66 in competition.
Over the last two months, his list of accomplishments continues to grow daily. It all started in early July at the Bobby Bowers Memorial Junior Golf Tournament when he shot a 71 to qualify as the three-seed for match play, then went all the way to the finals for a runner-up finish. He followed that with a win in mid-July at the Hurricane Junior Golf Tour's College Prep Series at Maryland, shooting 77-75. The next week, he shot 74-74 to qualify as the two-seed for match play in the Bobby Gorin Memorial Tournament and would go on to win one match.
His success carried over into August, as he shot scores of 34-34-35 in Heritage's high school tryouts to earn the number one spot on the squad. In the team's first event, the Curly Licklider at Shenandoah Valley Golf Course, he shot a 69 to win individually out of 118 people, which was the lowest competitive score of his life at that point. His strong individual performance also helped his team get the victory.
He stepped away from high school competition and played in the Hurricane Tour's Major Championship at Bristow Manor, shooting 75-77 to finish tied for third. He then returned to high school competition in mid-August and fired an incredible 66, the lowest score of his career, in the Loudoun County Public School Open at Algonkian Golf Course. His round was highlighted by a rare 29 on the back nine!
"Pat was definitely instilling the process in my head, which worked well in those tournaments. I was just thinking about the process not the outcome," Miller said. "The routine and setup help a lot to reduce the stress and doubt, and just going over the notes for the courses more helps. And he's obviously helped me with my swing. My swing has gotten a lot more consistent. In a span of two months I haven't shot over 77 and that's the lowest I've ever been."
Miller began his journey with RGA with an evaluation from McGuire and Apple, as they analyzed every phase of his game, including full swing, putting, short game, process, course management and mental control. They scored his strengths and weaknesses and developed a performance coaching plan to address the areas of need. Much of the focus for Miller has been on areas outside of the full swing, with a heavy emphasis on his process and approach to the game. With increased awareness and knowledge to accompany his talent, the success was inevitable.
"We truly are a team at RGA," Apple said. "Patrick and I work with players together to give them multiple perspectives and to make sure nothing gets overlooked. Each coach has strengths that allow the student to get more well-rounded and detailed lessons. I also get the opportunity to work with players like Hayden when Pat is away with his tour players. I had a great session with him on putting right before his strong showing at the Bobby Bowers."
Miller has been on an impressive run and doesn't seem to be slowing down, as he continues to work with the RGA team on a regular basis. His technical skills have progressed greatly since working joining the performance coaching program, but the mental and process leaps have been the biggest keys for him.
"I didn't know anything about why the routine and setup mattered, why the process mattered. I would just go up and do something different every time, be thinking of way too much in my head and be thinking about my swing. Now I know my swing is almost never the problem," Miller said.
Be sure to follow Miller's success as he continues his high school competitions and plays in Hurricane Junior Tour events throughout the fall. Best of luck Hayden!