What is Project 130?
What is Project 130?
By Coach Josh Apple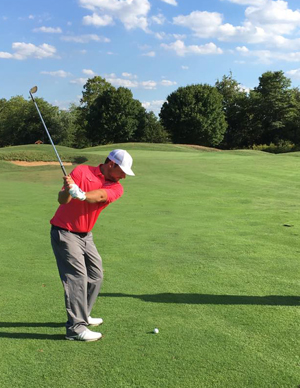 Project 130 is a wedging system under the performance-coaching category of the Raspberry Golf Academy. The term wedging refers to shots from about 60 yards up to about 130 yards, of course depending on age and skill level. Similar to the No Brainer short game program, Project 130 is built around the idea that natural swings will produce a consistent distance that can be tested and measured. This program is called Project 130 because it extends out to about 130 yards.
The end goal is to have three different distances with each wedge and potentially the 9-iron depending on your distances. The primary concept behind Project 130 is trajectory control. In order to produce three different distances with each club, the player will need to produce three different trajectories. When executed with proper technique, the high shot will carry the furthest, the mid shot will carry a medium distance, and the low shot will carry the shortest. By effecting change in trajectory, you are also effecting change in distance.
The most important part of the program is that we are measuring natural swings, meaning each player will produce unique trajectories and unique distances, but everyone will finish the program with three reliable distances with each wedge. Because these are natural swings, they are easy to repeat and to trust under pressure. Whether you take the Project 130 group class or learn it individually, you will be trained on how to properly produce three different trajectories, leading to three different distances.
Here is an example of the finished product; remember the numbers on the chart are just carry numbers. Notice some of the numbers are similar or overlap. By working alongside your coach, you can determine a process for picking the correct shot in various circumstances.
| | | | |
| --- | --- | --- | --- |
| Club | Distance 1 | Distance 2 | Distance 3 |
| Lob Wedge | 61 | 75 | 88 |
| Sand Wedge | 73 | 87 | 101 |
| Gap Wedge | 89 | 104 | 120 |
| Pitching Wedge | 105 | 119 | 134 |
For more information about "Project 130" group classes or private sessions, contact Coach Josh Apple at japple@raspberrygolfacademy.com or click here to register.
Next Project 130 Group Class:
Bull Run Golf Club
Start Date: June 4th
5 Week Series on Mondays: 5:30pm - 7:30pm
Skill level: Intermediate to Advanced