E-Coach Pro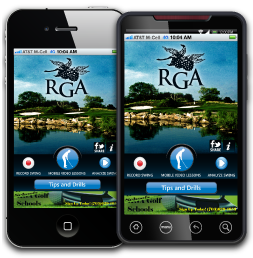 We have some exciting news to share with you! We have partnered with "OnlineSkillsCoach" and have begun to use their state of the art E-Coach Pro mobile video analysis systems and cloud-based technology in our studios and beyond! This technology gives our instructors the ability to work with students anytime and anywhere, providing game improvement analysis when you need it!
Our mobile APP allows you to video your swing, link to your GIC, and send your video instantly with automatic notification to your instructor they have a swing to review! Other features will soon include downloadable tips or drills, access to your own personal team of coaches, such as fitness or nutrition, and more!
Use your mobile device with the NEW adjustable CamCaddy to stabilize for the best video possible. The CamCaddy works especially well when you are doing the recording AND hitting balls! Click the CamCaddy banner below for more info and to order. If you don't have a device with our APP, don't worry! If you have the video, simply register and send it from your GIC via: http://raspberrygolf.onlineskillscoach.com
The only limitation is the internet and your imagination! Downloading our APP and registering is as EZ as searching the APP store for Raspberry Golf Academy.
Download The App Today!