Raspberry Golf Academy's Robyn James Voted Favorite Golf Instructor in Loudoun County
By Josh Apple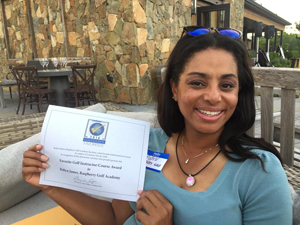 Robyn James recently joined the Raspberry Golf Academy team in the fall of 2017 and has since added her fascinating flair to the program through innovative teaching methods. Her primary initiative is the Birdie Belief Project, which is unique programming and instruction for women and girls. From gathering a group of girls on a bus trip to an LPGA tour event to painting golf balls and hitting them into a canvas to make art, Robyn has an out of the box way of relating to her female clientele.
It was through her unique programming that Robyn was one of eight individuals nominated for the "Favorite Golf Instructor in Loudoun County" recognition, an online poll run through Loudoun Now. Not only was she nominated, but Robyn went on to win, earning that distinguished title. The voting ran through June 30 and the winners were announced to the public on July 26.
"It was pretty cool to be nominated because there are a lot of very well established golf instructors in Loudoun County," Robyn said.
Robyn even beat out her mentor, Tiffany Faucette of 1757 Golf Club, who finished runner-up in the voting. Robyn is an LPGA Apprentice and has been instructing for about two years, but has been working in the golf industry for about eight years.
"This proves that my connection with my students is resonating, and they are just as excited about working with me as I am working with them," Robyn said.
Although she is relatively new to the world of golf instruction, she has developed an unrivaled reputation for enthusiasm among her students. She brings energy and a smile to every lesson.
"I get excited about coaching because it's amazing to think about what you're accomplishing on a regular basis through golf, you're overcoming so much, pushing yourself, and you can measure how far you've come, and it's a really empowering thing to see people go through that process," Robyn said.
You can follow this link to see all of the favorites in Loudoun County of 2018!
https://loudounnow.com/2018/07/26/loudouns-favorites-2018-the-readers-recommendations/