Four RGA Students Qualify for the 2018 U.S. Amateur
Four RGA Students Qualify for the 2018 U.S. Amateur
By Josh Apple
The U.S. Amateur is the world's biggest stage for amateur golf competition, and simply earning a spot in the field is a lifelong dream for many. Past champions include Bryson DeChambeau, Ryan Moore, Matt Kuchar, Phil Mickelson, and of course Tiger Woods, who won three consecutive times in the mid-1990's. For the Raspberry Golf Academy to have even one student qualify for the field would be impressive, but RGA students have been beyond impressive in 2018, the 10-year anniversary of the academy.
Brandon Weaver, Connor Messick, and Ryan Smith each qualified for the men's championship, which will be held at Pebble Beach Golf Links and Spyglass Hill Golf Course from August 13-19, and Katie Reilly qualified for the women's championship, which will be contested at The Golf Club of Tennessee from August 6-12.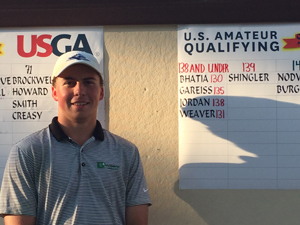 Brandon Weaver is a member of the Longwood University golf team and has been working with RGA Director of Instruction John Miller since he was in high school. Under Miller's guidance, Brandon's golf career skyrocketed in high school, winning the state championship back-to-back years. That success has carried over to his collegiate career as well, as he won the Manor Intercollegiate this past season, Longwood's home event.
Brandon played his 36-hole U.S. Amateur qualifier at James River Country Club in Newport News, Va. on July 10th, and fired incredible scores of 64-67 (-9) to finish in second place, just one shot back of first. That particular qualifying site had over 70 competitors but took just two spots, giving Brandon the second spot.
"I played super consistent, my ball striking was good. I was hitting it in the right spots, giving myself good putts. I was really strong off the tee. That course is really tight and I was able to put it in the right spots," Brandon said.
Immediately following his strong qualifying performance, Brandon had a solid showing at the Eastern Amateur, one of the strongest amateur events on the East coast. He finished 22nd with scores of 69-69-67-72 (-3) over the four rounds from July 12-15.
"It all hasn't really sunk in yet because as soon as I qualified I had to go the Eastern and stay focused," Brandon said. "I'm pretty excited though to go out to Pebble and to play Spyglass too, which I've heard is even better. I can't wait to get out there in August. It's going to be so much fun."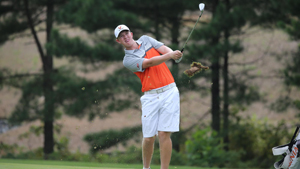 Connor Messick recently concluded his career as a member of the University of Virginia golf team, and will be playing for George Mason in the fall as a graduate student transfer. He has been a student of RGA Director Patrick McGuire for two years, and has seen great success in amateur tournaments since joining the RGA team.
Connor played his 36-hole U.S. Amateur qualifier at the Country Club of Woodmore in Mitchellville, Md. on July 17th, and shot 73-69 (-2) to finish is second place. This qualifying site took five spots with a larger field competing for the honor.
"My main goal this summer was to get prepared to qualify for the U.S. Am with the help of my coach, Pat McGuire, and that is what we did," Connor said. "I'm looking forward to getting out there and making the most of this incredible opportunity."
Both Brandon and Connor made the cut in the Virginia State Open at Ballyhack Golf Club in Roanoke, held from July 19-21. Brandon finished T40 and Connor finished T44 in the strong 144-player field.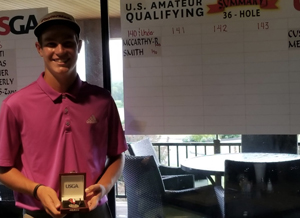 Ryan Smith elevated the bar to three RGA participants in the 2018 men's U.S. Amateur when he shot scores of 71-69 (-4) in his 36-hole qualifier on July 23 at Hayfields Country Club in Cockeysville, Md. The rising high school junior lives in California but is originally from Leesburg, Va., and has worked with Patrick McGuire since he first learned how to hold a golf club.
Under McGuire's guidance, Ryan has steadily been one of the top junior golfers in the nation. Prior to qualifying for the U.S. Amateur, Ryan reached the Round of 16 in the 2018 U.S. Junior Amateur, held at Baltusrol Golf Club in Springfield, N.J. from July 16-21. Having already proved himself in junior golf competition, he will have chance to breakout on the amateur scene at Pebble Beach.
Ryan has committed to play college golf at the University of North Carolina in 2020.
Katie Reilly claimed one of three spots in the big event by shooting 70 (-2) at Glenmore Country Club in Keswick, Va. on July 2nd, when she managed to go 6-for-6 on up-and-down opportunities. Katie also works with McGuire and has seen her game progress through his teaching.
"I definitely wouldn't have gotten here without all your (Patrick's) help over the years," Katie said.
Be sure to follow Brandon, Connor, and Ryan at Pebble Beach and Katie at The Golf Club of Tennessee next month as they look to grow their name on the big stage, and check back in for more updates from RGA as we celebrate the 10-year anniversary!